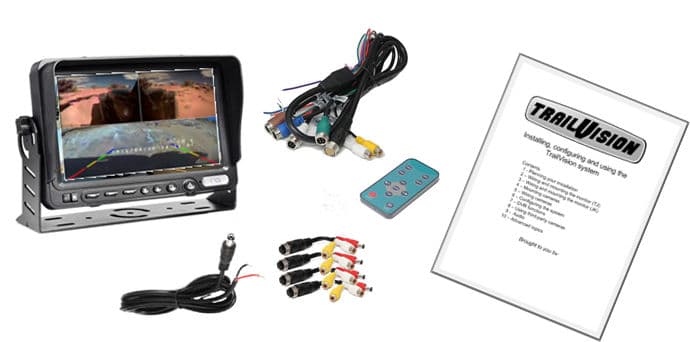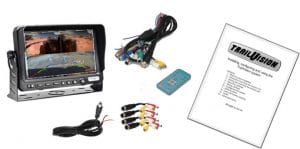 This TrailVision Base System/DIY System is the foundation for all TrailVision installations.  Start with this system, and either add your own cameras and accessories, or buy guaranteed-compatible cameras and other accessories from us to build your ideal system.
The TrailVision Base System/DIY System includes:
Detailed 40+ page installation and operations manual which provides step-by-step instructions for installing and wiring the system in a Jeep JK or TJ.
The TrailVision 7″ monitor can display up to 4 cameras at one time, and includes DVR capability and advanced features such as triggers and audio inputs/recording.
Multifunction remote control
Wire Harness
Wiring and power adapters for 4 cameras.
*** The Base system does not include any cameras.  The Base System accepts any cameras with an RCA output for video.***
7″ TrailVision DVR Monitor features:
Quad View Display with multiple viewing options including triggers
Auto Dimming (screen dims in low light)
Built in DVR – automatically records all camera feeds
LCD Screen – Thin 1 inch Screen
Removable Sunshade
Built in speaker
Back-lit buttons – Buttons illuminate in the dark
7″ TrailVision Monitor comes with a Super Sharp Digital Display and a pixel resolution of 800 X 480.  The monitor comes with a built-in DVR allowing you to record all camera views and its SD card slot can hold up to a 32GB SD cards.  This monitor comes with mirror image capability, it has built-in speakers and its menu can be navigated with the on dash buttons or with the remote which comes included.